Reading Time:
2
minutes
W

riting good copy is hard.

"Why is X the most extensive lights warehouse?"
Why should I give a shit?
Pardon my French, but marketing can improve in Romania. With some behavioral science in advertising or marketing, things could sound different.
There is an ad that appears on the YouTube channel. Of course, I skip after 5 sec, but I think I've seen it a few times, and I'm clearly, not the target audience.
But even if I was, let's imagine you are the owner and have the biggest lights deposit.
---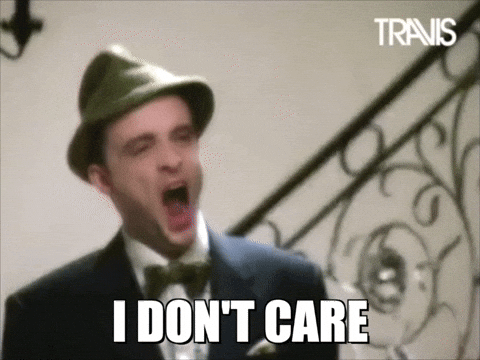 Why, as a customer, should I care?
I understand you are talking about benefits, but I don't care.
I care about my problem! Depending on my customer type, my problem could be similar but different in how I solve it.
---
If I am a regular customer with a few light bulbs in the house, then all I need is to go to the local supermarket, and I will find a standard bulb. Or a bricolage and get lost there, but I will find something in the end.
If I am a company that renovates its offices or an owner that builds a house or a constructor, then the approach is different. First, I need a lot more items and different ones. Then, I need the best deal. Only then can I consider a company that has the most extensive warehouse.
But even so, I don't care that you are the biggest because we freeze when we have too many options. Also, if you are not an expert, choosing different types of lights will exhaust you.
Not to mention the timing when I see the ad. If I don't want to change the lights in the office or the house soon, this ad will fall flat.
Some hypotheses if I'm a customer who needs lights
What I want is: a) some options to choose from it (classical but modern also); b) special offers; c) help to choose if I'm not an expert; d) easy navigation; e) easy delivery (if it's online); f) others.
This is a list thinking about myself. But the company has to know its target audience better (if I write about this, they don't know that well) and what makes them tick.
---
I would start the ad differently:
"Are you searching for enlightening?" (bold, double-sense, spark interest).
What would your family/ employees say about this lamp?
or
"Are you finishing your house but not sure what lights to choose?"
"If you found yourself searching for lights to make your offices cozy/cooler/ modern, then search no more."
"When the lights go down… (song, Lyrics).
No, with us, that doesn't happen. The enormous lights Wearhouse X."
"Who knew that there are so many types of lights? That's crazy…."
Be curious. Use Behavioral Science. Target the right customers at the right time.
Or lose money on ads and make people feel annoyed.
---
With Behavioral Science in Advertising, you can save money and gain customers. Please give me a PM to find out how to do that. 😉
---
Please, comment below. Or spread the news. 😉
---